Deep Roots
Dinwiddie Elementary School (DES) is a Title I school that currently serves 325 students in grades K-5.  50% of the students receive free/reduced meals, 15% receive special education services, and 2% participate in the gifted program.
There have been 11 principals that have lead Dinwiddie Elementary since the school opened in 1939.  On October 26, 2015, ten of the eleven principals were invited for a photo and a brief ceremony.  During their visit to Dinwiddie Elementary School, the principals had an opportunity to review a yearbook collection and plant a tree in front of the school.  Dinwiddie Elementary School remains a landmark building in Dinwiddie County.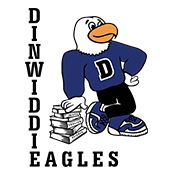 Great Heights
It is our belief at Dinwiddie Elementary School that every child can reach their potential with the proper tools. It is our mission to ensure that every student receives the appropriate academic and emotional support which is needed for them to experience the education of a lifetime. More than 80% of DES students have passed the state developed fitness standards.   All students participate in monthly PE walks which encourage cardio-vascular exercise.  The students have recorded well over 2000 miles in the past years that they have participated. The school quality profile can be found at  http://schoolquality.virginia.gov/schools/dinwiddie-elementary.
Dinwiddie Difference
Dinwiddie Elementary School is a part of a community that supports the development of our students through various community activities. Our positive relationships with local businesses allow our students to participate in events such as farm and career day.   Students are able to soar above expectations set for them as a result of our strong community support.  DES students have had the opportunity to participate in coding club, school to pool (water safety), animal shelter item drive, and many local and regional field trips.  In addition to these activities we have a sensory room, outdoor music wall and garden space to meet the sensory needs of our students.