Five Decades of Principals
Five Decades of Administrators to be Celebrated at Dinwiddie Elementary School
Invitations were sent out to all surviving principals of Dinwiddie Elementary School. Seventy six years after
opening its doors nine of the eleven administrators have confirmed their attendance for a historic photo
on Monday, October 26, 2015 at 9:00AM on the front steps of the school.
Following the picture there will be a brief ceremony. The SCA members led by Ms. Jordan Reekes are
preparing to take any or all of the principals around the building for a tour. Renovations have changed
parts of the building since some of the principals have left the leadership role of the school. Currently the
original ceramic tile is still noticeable in the hallways. One day with additional landscaping the beautiful
brickwork may be seen from the highway as it once was when the building was built.
The Dinwiddie Elementary School PTO led by Mrs. Samantha Voda is also contributing a light breakfast for
the event. Special thanks is extended to Strawbridge Studios for taking this photo.
The principals are listed below:
1. Ivan M. Butterworth 1928-1964 (DHS) 1965-1969 (DES)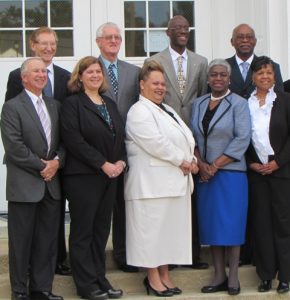 2. James Blankenship 1969-1975
3. Ken Wright 1975-1978
4. Thomas F. Green 1978-1987
5. Charlie J. Taylor 1987-1995
6. Bernice J. Bracey 1995-2003
7. Christie D. Clarke 2003-2005
8. Patricia A. Moody 2005-2012
9. Trina Harris 2012-2013
10. Danielle Moore-Winn 2013-2015
11. Davis Roberts, Jr. 2015-Present